Richard Foreman's WILFUL MISUNDERSTANDINGS
A5 perfect bound 282pp
Cover price: £8.95 £6.95 (GB pounds) ***NOW REDUCED***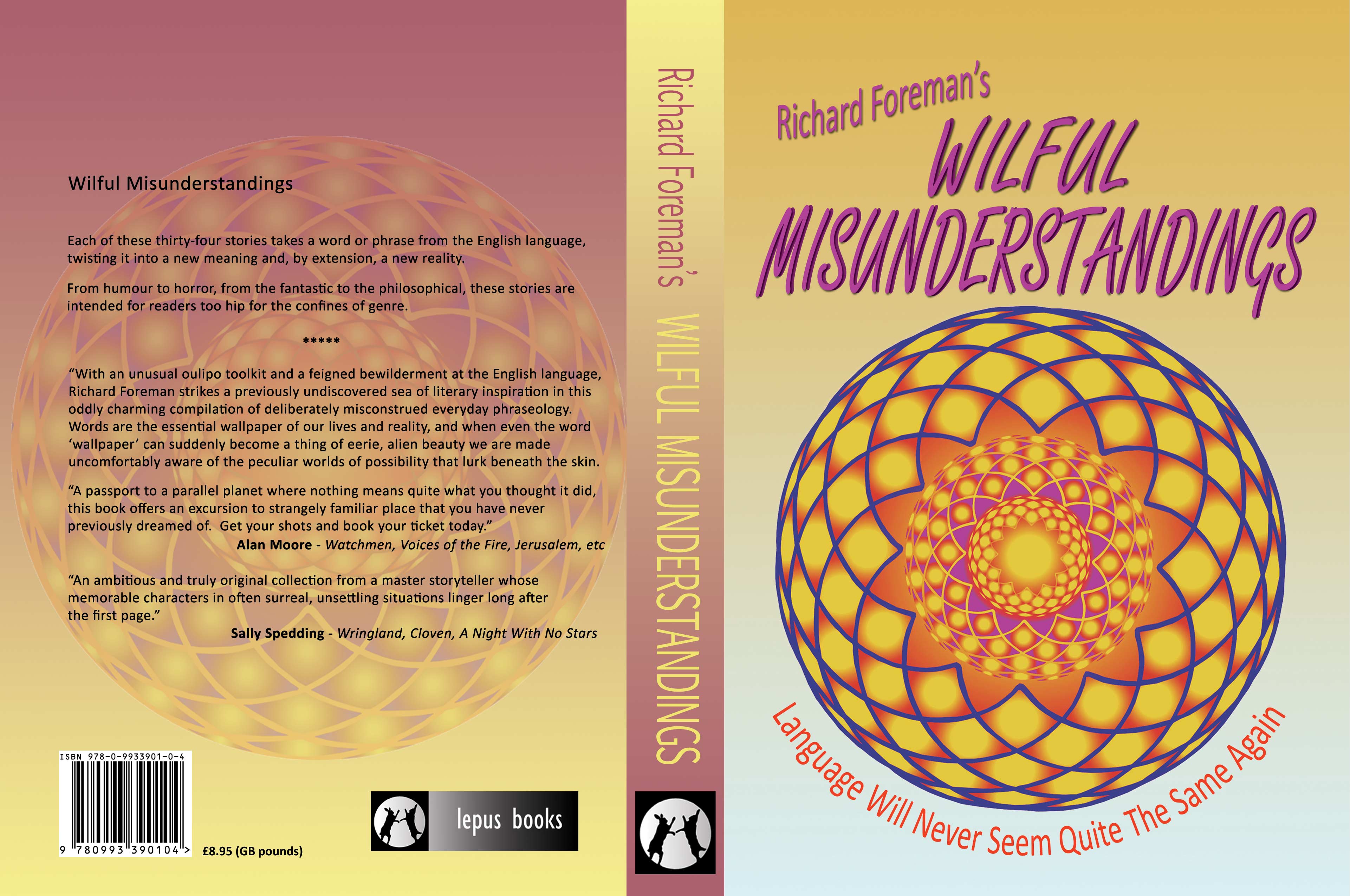 In each of the many worlds of 'Wilful Misunderstandings' the meaning of a word, phrase or saying is not the one with which we are familiar. So in one of these thirty-four short stories, 'Beast', we discover that a 'parapet' is a paranormal creature assigned to would-be mystics as a familiar. In another, 'Short', we find that if you go out 'to stretch your legs' you will return an inch or two taller.
Sometimes based on puns or word associations, sometimes pure whimsy, in tale after tale the nature of reality is altered by these changed meanings. Each of the book's realities is shockingly surreal at times, at others not so very different from our own. The stories that emerge from them cross a diverse stylistic range through SF, adventure, crime, romance, horror, legend, folk tale and 'magic realism'.
Reviews:
"Richard Foreman's Wilful Misunderstandings comprises thirty four stories based around the twist or misunderstanding of an English word or phrase.  They are utterly beguiling and often unsettling, combining quirky humour and philosophical thoughts within slightly off-centre fictional worlds.  The stories veer between fantasy and surrealism yet somehow hold a balance of credibility that make them disturbing.  This variant Oulipo fiction with added humour is simply a tour de force of storytelling."  David Caddy – editor Tears in the Fence magazine, issue 65, spring 2017
"Within five minutes of picking the book up and reading it for the first time I was immediately entranced. These stories are a delight, and I have spent much of the 'Festive Season' proselytising about Foreman to anyone who would listen. I have found myself using the words 'delight' and 'delightful' far more often than I would have wanted to, but I truly cannot think of a better adjective. My life has been enriched for having read these stories. I cannot wait for the next volume." Jonathan Downes  – editor Gonzo Weekly magazine
"Expect the unexpected while reading Wilful Misunderstandings.  The oddball characters and their quirky concerns will attract your attention. Richard Foreman demonstrates how deep his imagination is, and how the simplest of ideas can make interesting prose. He writes fluently, wittily, and his stories tend to approach the dark side in a humorous way."  Michelle Stanley – Readers' Favorite website
Comments from fellow writers:
"A passport to a parallel planet where nothing means quite that you thought it did, this book offers an excursion to a strangely familiar place that you have never previously dreamed of. Get your shots and book your ticket today."   Alan Moore – Watchmen, From Hell, Voice of the Fire, Jerusalem
"An ambitious and truly original collection from a master storyteller whose memorable characters in often surreal, unsettling situations linger long after the first page."  Sally Spedding – Wringland, Cloven, A Night With No Stars
"Carefully constructed scenarios with a playbill of disparate characters shrewdly and sympathetically observed.  Offspring of a particular and subtle imagination, told with humour, craft and insight."  Jamie Delano – Hellblazer, World Without End, Leepus | DIZZY
Comments from readers:
"Stories like dreams half remembered, tapping into a seam (or seeming) of the unconscious mind."
"I love the feeling of shifting, malleable realities.  It is so much fun and encourages thinking in new ways about the world."
"The book is bloody brilliant. I read it in nearly one sitting. It totally messed with my head."
"This is a collection to reread, a book to tickle and amaze, to ruffle and amuse and sometimes to raise the hairs on the back of your neck."
"Unafraid to tread off the beaten track into vivid, unsettling worlds where nothing can be taken for granted.  Where anything can happen."
***
______________________________________________________________
Buy signed edition
Price includes delivery via Royal Mail.

Please choose your location from the drop-down menu.
*If 'BUY NOW' button does not appear above, please refresh page.