A5 perfect bound — 270pp
Cover price: 7.95 GBP (£)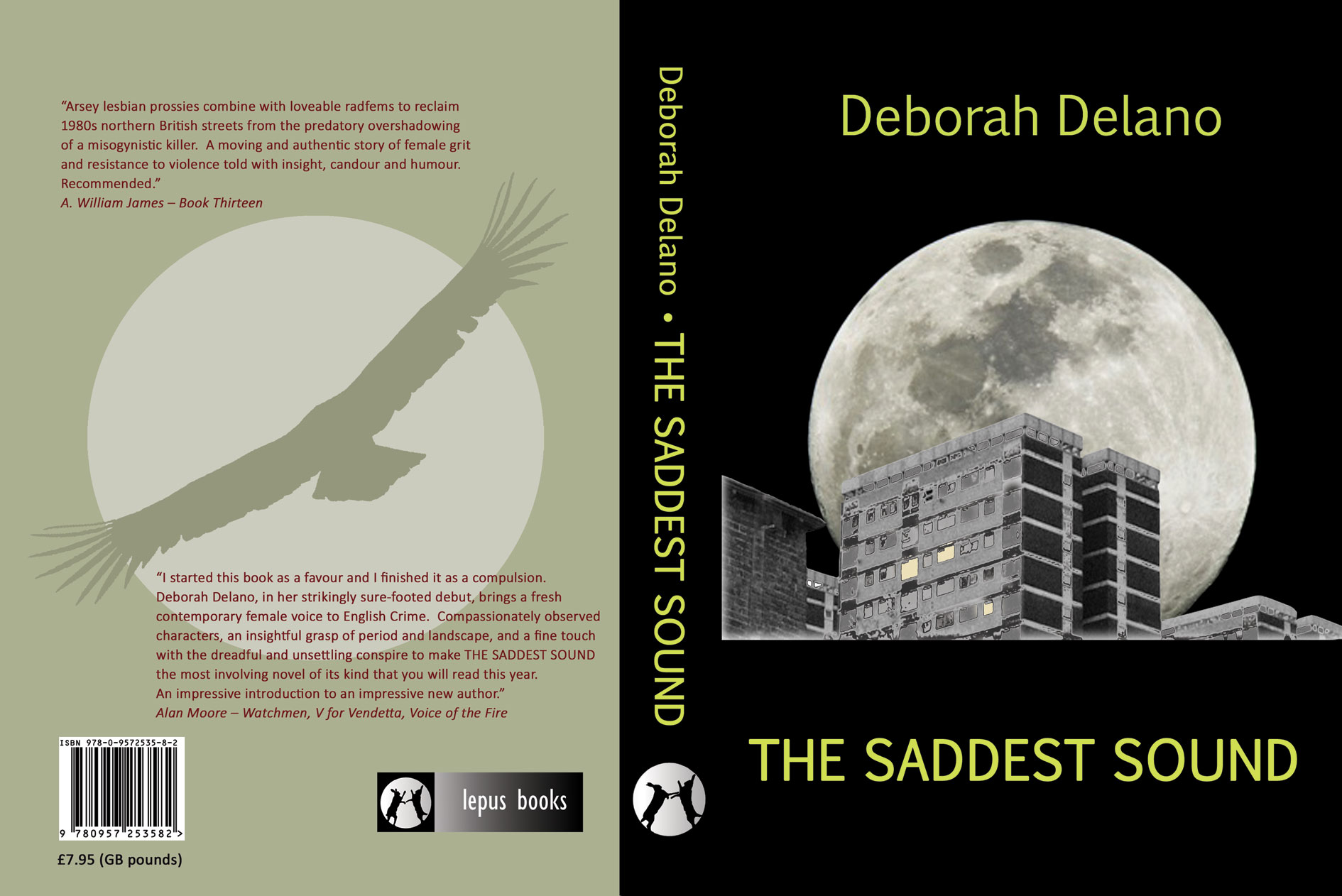 In the late twentieth century, a misogynistic serial killer menaces a northern English city.  He's not a random maniac but a deadly product of his time and culture.  This is the story of the women entangled in his web of insanity: not victims but visionaries.
"Every so often a book jemmies into a genre, breaking it open to replace the worn mechanisms and follies of the old form while establishing afresh the possibility of a greater truth lying within.  Deborah Delano's THE SADDEST SOUND does this to the house of detective fiction… and it's about time."  Alistair Fruish – Kiss My ASBO
"I started this book as a favour and I finished it as a compulsion.  Deborah Delano, in her strikingly sure-footed debut, brings a fresh contemporary female voice to English Crime.  Compassionately observed characters, an insightful grasp of period and landscape, and a fine touch with the dreadful and unsettling conspire to make THE SADDEST SOUND the most involving novel of its kind that you will read this year.  An impressive introduction to an impressive new author."  Alan Moore – Watchmen, V for Vendetta, Voice of the Fire
"Arsey lesbian prossies combine with lovable radfems to reclaim 1980s northern British streets from the predatory overshadowing of a misogynistic killer.  A moving and authentic story of female grit and resistance to violence told with insight, candour and humour.  Recommended."  A. William James (aka Jamie Delano) – Book Thirteen, Leepus: Dizzy, Hellblazer
"A thrilling and genuinely frightening debut novel; I read it in one greedy sitting."  Jude Ramsdale – Assistant head teacher
"A dark novel set in the gritty north, THE SADDEST SOUND reminds us that homophobia, prejudice and poverty are not as distant-past as we think. Grabs you right to the end."   Jan Stevenson – Web Designer
______________________________________________________________
To purchase a signed print edition of "The Saddest Sound" please select your location from the drop-down menu and then use "Buy Now" button.
*If 'BUY NOW' button does not appear above, please refresh page.
Buy POD edition