A moving and honest memoir of growing up working class and lesbian in 1960s/70s provincial Britain.
A5 perfect bound — 188pp with black & white photos.
Cover price: 6.95 GBP (£)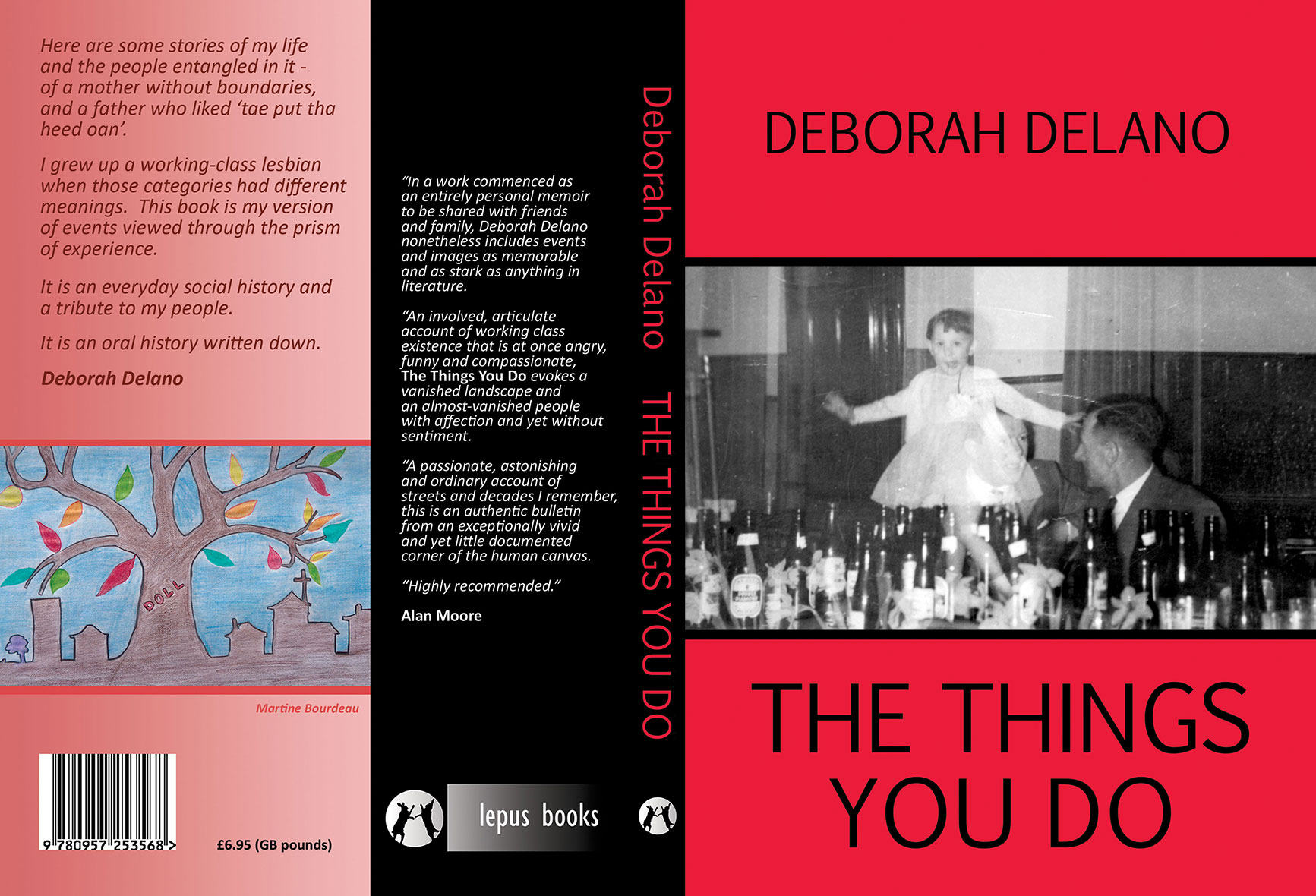 Cover designed by Lepus Books.  Cover images copyright Deborah Delano
An introductory word from the author
I began writing a few years ago when my friend, Alan Moore, asked me to contribute to his underground magazine, DODGEM LOGIC. I found the experience at once terrifying and exhilarating and set about a piece on having been an 'out in the classroom' gay teacher since the mid 1990s. To my surprise it was met with much appreciation, and an edited version of the account appears in this edition of THE THINGS YOU DO.
It happened that in the same year I broke my arm, and suddenly found myself with six weeks off work and bugger all to do. The first chapters of my memoir took shape during this time. It became increasingly clear to me that writing was something that I not only enjoyed but also had somehow developed a compulsion to do. I've harboured a life-long penchant for anything that allows my brain to journey in time and space beyond the confines of the body, and writing holds this charm for me.
I am in the fortunate position of being married to an accountant (I recommend this course of action to anyone thinking of writing) and she produced a number of wondrous spreadsheets revealing that we could afford for me to go part-time—just. The following September I reduced my teaching commitment to three days a week. THE THINGS YOU DO was completed before Christmas and I, with the help of my friend Jamie Delano (no relation), printed up a few copies as gifts for family and friends. Again, this was so well received that I took confidence and, nailing my courage to the sticking post, decided to make it more widely available and began work on a novel.  THE SADDEST SOUND is not, as yet, published but sample chapters and pre-publication review downloads are available on request. If you like my memoir you may well enjoy the novel too and certainly you will be in a position to see where the inspiration for it developed.
I am currently working on a second novel, a family saga, as well as beginning research on a series of short fictionalised accounts of women who kill.
It must already be clear that I am blessed with a partner who can do spreadsheets and fabulous supportive friends but, to add insult to injury I, also live in the hub of the lesbian universe, Hebden Bridge in West Yorkshire. The only thing that can add to my joy is you buying my book and liking it. Let me know if you do and I'll add you to my list of people I'd save from drowning.
Deborah Delano    July, 2014
Price includes delivery via Royal Mail.  Please choose your location.  Apologies for the cost to those outside EU – Lepus Books subsidises the exhorbitant mailing charges as far as is economic.

*If 'BUY NOW' buttons do not appear below, please refresh page.
Print edition UK delivery: 10.00 GBP (£)
Print edition EU delivery: 11.50 GBP (£)
Print edition WORLDWIDE delivery: 13.00 GBP (£)
DIGITAL EDITIONS
LEPUS BOOKS is happy to supply independent booksellers and comic shops, and our (currently two) authors are available to offer support with signings and/or readings.  Please CONTACT us for details.