A5 perfect bound – 294pp
Cover price: 8.50 GBP (£)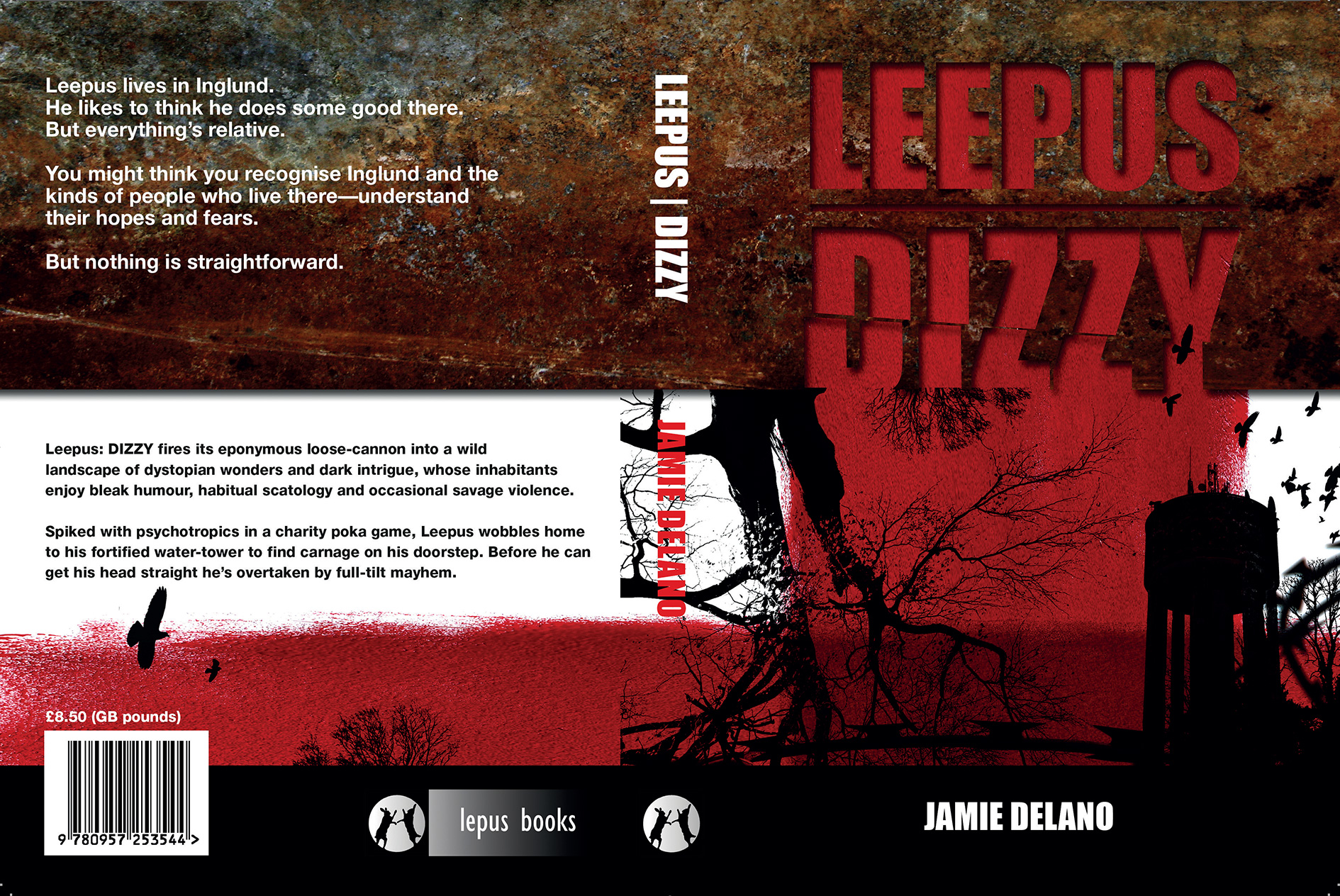 Cover & logo designed by Richard James | richardjames-art.co.uk
INGLUND: a near-future alternate reality of my devising, in which those with a noir sensibility and an appreciation of scatalogical humour and bloody violence are likely to find some diversion.
LEEPUS: the poka playing, drug-fuelled guide who's eager to lead you astray there.
J. D.
"Pure Delano at his badminded best."  Alistair Fruish – Kiss My ASBO
"Trippy, thought-provoking, and well worth your time."  Stuart Moore – EGOs
"In a real sense, Delano is the anti-Gibson. There is not even a veneer of longing for the past, it's simply one more commodity, one that comes covered in blood. Sentiment brings destruction here. Another dark alley to avoid. Leepus own acknowledgment's of the past, his past, cut him to the quick. Without giving too much away, in the end we are given a very dark meditation on what it means to live with your art. It's decidedly bittersweet."     Joe Hilliard – Asylum Ink (click for full review)

______________________________________________________________
NEW PURCHASE OPTIONS
With the aim of making our books more economically available on a worldwide basis, we have now arranged for print-on-demand editions of selected Lepus Books titles to be listed on major retail and wholesale platforms — thus making them also available for order at cover price via your local bookstore, who we recommend you support.
Print-on-demand books – while both durable and perfectly readable – are produced using a lighter grade interior paper and cover stock than the editions available via our website, and are sometimes subject to a slight, and hopefully temporary, 'waviness' in the book block.  This annoyance, we are informed, is 'inherent in the POD process'.
If postage is not a disincentive, the better quality editions are still available direct via the PayPal button below.  These copies will also usually be signed by the author.
Yer pays yer money an' takes yer pick.
______________________________________________________________
Buy Original Edition
Price includes delivery via Royal Mail.  Apologies for the cost to those outside EU – Lepus Books subsidises the exhorbitant mailing charges as far as is economic.

Please choose your location from the drop-down menu.

*If 'BUY NOW' button does not appear above, please refresh page.
Buy POD edition
DIGITAL EDITIONS are now available from:
LEPUS BOOKS is happy to supply independent booksellers and comic shops, and our authors are available to offer support with signings and/or readings.  Please CONTACT us for details.